Künstlername: Jana Bach
Geburtstag: 10. April 1979
Geburtsort: Lutherstadt Eisleben
Wohnort: Berlin
Sternzeichen: Widder
Familienstand: ledig
Augenfarbe: braun
Größe: 1,60
Kleidergröße: 36
Haarfarbe: braun
Maße: 85 – 65 – 92 (glaube ich . . .)
Gewicht: 50 kg
Schuhgröße: 37
Hobbys: Ausschlafen, Fotografie
Erlernter Beruf: Justizfachangestellte
Fremdsprache: Englisch, Russisch
Lieblingsfilme: Krimis
Lieblingsbücher: von Wolfgang Hohlbein
Lieblingssänger: Moby und viele andere
Lieblingsmusik: Rock & Pop
Tiere: Mein Kater Max
Farbe: grün
Lieblingsparfüm: Cacharel
Lebensmotto: Nimm's wie es kommt!
Liebe: Ist was Feines
Freundschaft: Ohne geht gar nix
Familie: Mein sicherer Hafen
Treue: Ist ganz wichtig, vor allem: Sich selbst treu bleiben!
Fans: Sind ein Macht und große Motivation für mich.
Drogen: Absolutes No-No
Ziele: Gesund bleiben, der Rest ist Schicksal
Klamotten: Immer gern was Neues
Wann und wie hast Du mit der Karriere im Porno Business begonnen?
Als ich 2004 als Fotomodel auf der Venus war, bekam ich einige Angebote, in einem Porno mitzuwir-ken. Ich habe mich nach monatelangem Überlegen dann bei "Inflagranti" beworben und schließlich im April 2005 meine erste Szene gedreht.
Lieblings-Regisseur: The one and only Hubertus Leischner
Für welche HC-Labels hast Du bisher gearbeitet: Nur für Inflagranti
Was magst Du an deinem Beruf?
So ziemlich alles – vor allem, dass ich viel rumkomme und überall nette Menschen kennen lerne
Welches ist Dein Lieblingspartner in den Filmen?
Ich hab keine Lieblingsdarstellerin oder Lieblingsdarsteller, ich steh wohl eher auf die Abwechslung, die man am Set haben kann.
Welcher Film gefällt Dir am Besten, in dem Du mitgewirkt hast?
Da habe ich keinen besonderen Favoriten.
Hast Du eine Favorit/in unter Pornodarsteller/innen? Wie gesagt: Nein.
Treibst Du Sport? Ja, ich gehe oft wie möglich ins Fitnessstudio.
Welche Stellung gefällt Dir am Besten? Doggie-Style kommt immer gut
Was macht dich total scharf? Kommt auf die Umstände an . . .
Dein erstes Mal? Mit 17.
Dein erster Kuss? Keine Ahnung, auf jeden Fall vor 17!
Kannst du dir vorstellen, nach dieser Karriere in deinen erlernten Beruf zurück zu kehren?
Nein, da würde ich wohl versauern.
Was sagen deine Verwandten oder deine besten Freunde zu deiner Tätigkeit?
Sie sind davon nicht gerade begeistert, doch sie tolerieren es.
Was ist Dein absolut größter Traum?
Ich lebe gerade einen großen Traum und weiß ehrlich gesagt nicht, wie ich ihn noch überbieten könnte -- bloß nicht aufwachen!
Was bringt Dich zum Schmunzeln? Mancherlei.
Kannst du dich an Deinen ersten Pornofilm erinnern, den du gesehen hast? Nö.
Mit welchem Hollywoodstar würdest du gerne einen (nicht Porno) Kinofilm drehen?
Eine Frage, die ich mir noch nie gestellt habe – viel zu theoretisch!
Drei Dinge die Du auf eine einsame Insel mitnehmen würdest:
Ich muss hoffentlich nie auf eine einsame Insel – das wäre mir viel zu langweilig!
Vielen Dank für das Interview!
Das ist Jana Bach
Besonderheiten: Zu Hause wartet ihr Schmusekater "Max". Sie fährt einen fast schrottreifen Ford Fiesta.
Jana drinkt keinen Alkohol, sondern nur Cola und Kaffee.
In Ihrer Freizeit fotografiert sie gern und schaut französische Kriminalfilme.
Lebensmotto: Das Leben genießen, denn es ist kurz.
Jana Bach ist die deutsche Newcomerin des Jahres. Beginn Ihrer Karriere waren erotische Fotoaufnahmen für "Coupé", die sie im Juni 2004 machte.
Weitere Shootings für das Erotikmagazin folgten, unter anderem auf der Erotikmesse "Venus 2004" in Berlin.
Dort wurde Jana dann auch von mehreren Porno-Produzenten und Darstellern angesprochen, ob sie nicht in einem Erotikfilm mitspielen möchte.
Nach reiflicher Überlegung startete die süße Kurzhaarige dann im April 2005 beim Label "Inflagranti" mit ihrem ersten Pornofilm "Sex & Lügen".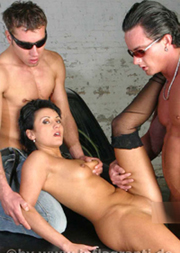 Gleich ihr erster Dreh wurde von der Presse verfolgt, ein Redakteur des Männermagazins "FHM" verfolgte die Filmaufnahmen.
Da die Befürchtungen noch überwogen, durfte sie sogar eigene Drehbuch-Vorschläge unterbreiten.
Aber wie Jana in einem Interview zugab, hat es ihr im Nachhinein so viel Spass gemacht, dass sie am liebsten am nächsten Tag gleich wieder einen Porno gedreht hätte.
Warum dreht sie nun aber Pornofilme, wenn sie doch anfänglich Bedenken hatte? Jana Bach will nach eigener Aussage vor allem Tabus unserer Zeit brechen und sich selbst entdecken.
"Das Spiel der Leidenschaft, die Inszenierung von Phantasien, die im "normalen" Liebesleben nie oder nur ganz selten verwirklicht werden" findet die gelernte Justizangestellte einfach faszinierend.
Ihre offene Art und exhibitionistische Ader konnte man auch gut in der SAT1-Dokumentation "Neues aus Pornoland" sehen.
Die Ausstrahlung dieser Sendung hat viel zu Jana's Popularität beigetragen. Die Nachfragen nach ihr ist stark gestiegen.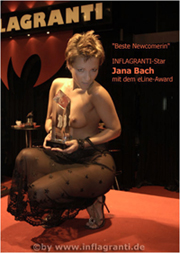 Was hält sie von anderen Pornodarstellerinnen? Ganz locker erzählt Jana, dass sie immer dachte, diese seien "stutenbissige Zicken" und wie überrascht sie war, wie toll man sich über Gott und die Welt austauschen kann.
"Es war ein bisschen wie in "Sex and the City": Wir nahmen kein Blatt vorm Mund, amüsierten uns prächtig, und natürlich wurde auch ein bisschen gelästert – das machen Mädchen nun mal gern."
Auch insgesamt scheint sich Jana Bach mittlerweile im Porno-Business sehr wohl zu fühlen, ob bei der gemeinsamen Mallorca-Tour mit Vivian Schmitt oder auf der Venus 2005, wo sie ihre Auszeichnung als "Beste Newcomerin Deutschland" entgegen nahm.
Sie war vollkommen aus dem Häuschen: "Ich war aufgeregt wie vor meinem ersten Dreh, habe mich dann aber riesig über diesen Preis gefreut.
Nicht weniger groß war ihre Freunde ein Jahr später.
Denn auf Venus 2006 durfte Jana nicht nur die Preisverleihungen moderieren (zusammen mit ihrem Kollegen Conny Dachs), sie wurde dort auch als "Beste Darstellerin Deutschland" ausgezeichnet.
Doch Jana begeistert ihre Fans nicht nur mit ihren Filmen und Live-Auftritten - auch als sexy TV-Moderatorin hat Jana sich schnell einen Namen gemacht.
Seit Dezember 2005 führt sie durch die erotische Nachtsendung "Lanotte" beim Quizsender 9Live, und seit September 2006 kommt sie auch als Moderatorin auf Beate Uhse TV zum Einsatz.
"Inside Sex" heißt ihre Sendung, in der sie Stars und Sternchen der deutschen und internationalen Erotikszene bei der Arbeit begleitet.
Janas Markenzeichen sind ihr Charme und Humor, dazu eine sympathische Ausstrahlung und natürliche Freude am Sex, wie sie in zahlreichen Produktionen ihres Exklusiv-Labels Inflagranti unter Beweis gestellt hat.
Ihre besten Filme:
Die Straßenficker Spritztour!
Die Straßenficker Voll abgefahren!
Fetish-Zone: Latex - Puppen-Sex
Hard Sex Café
Sex & Lügen Stars:
Jana Bach - Von Null auf 100!
Popp oder Hopp - Das Live-Sex-Spiel Nr. 10 (ab November im Handel)
Schwarze Flamme Silverline: Landzucht (ab November im Handel)
Stahlhart: Gefangene der Lust (ab November im Handel)
Fetish-Zone: Feet - Fußorgasmen (ab November im Handel)
Rocker-Queens (ab November im Handel)
Homepage: janabach.dvd-pornostars.com
Hier finden Sie DVD-Filme mit Jana Bach
© by S.A.G. Technology GmbH