German Porno-News von OpenErotik
®
2007 - Erotik News
---
* * * OpenErotik
®
Magazin * * * Deutsche Adult News* * * Interviews der Sex-Redaktion* * *
---

Bei Mister-Wong.de Bookmarken
---
| | |
| --- | --- |
| Hardcore Amateur Videos | Juni 2007 |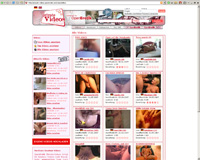 OpenErotik Private-Videos bringt Dir echte Amateur Videos nach Hause. Jeder angemeldete User kann hier Videos direkt ansehen oder downloaden. In den 123 verschiedenen Kategorien findet sich für jeden sexuellen Geschmack das passsende, ob nun A wie Ablecken über K wie Kitzler bis W wie Wichsen.
OpenErotik Private-Videos ist das Portal für Hardcore-Fans. Hier kann jeder ab dem 18. Lebensjahr seine eigenen Video Clips online stellen. Anmelden - Video hochladen - Geld verdienen - so einfach geht das.
Kostenlos anmelden um die Hardcore Amateur Videos runterzuladen oder eigene Amatuer-Videos hochzustellen.
---
| | |
| --- | --- |
| Kim Kardashian - Superstar | Juni 2007 |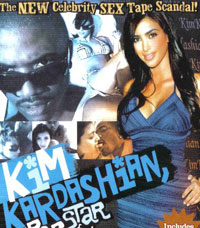 Sie ist die Tochter von O.J. Simpsons Staranwalt Robert Kardashian.
Stieftochter des Olympischen Goldmedaillengewinners Bruce Jenner und die BESTE FREUNDIN von PARIS HILTON.
Er ist ein supererfolgreicher Hip Hop Star dem bereits Affären mit Lil Kim und Whitney Houston nachgesagt wurden.
Und wenn Du sieht was er auspackt, verstehst Du auch sofort warum man das denkt.
Hier sind es Kim Kardashian und Ray J in dem bereits heißesten Celebrity Film aller Zeiten.
Kim Kardashian Superstar....sie ist 24,5 cm vom Ruhm entfernt!
Kim Kardashian, Superstar DVD in unserem Shop - HipHop Pornos und mehr DVD Pornostars
---
| | |
| --- | --- |
| KATIE HOLMES verklagt KATEE HOLMES | Mai 2007 |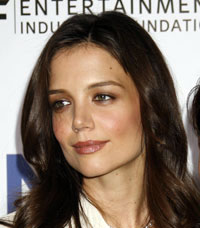 Die ehemalige "Dawson's Creek"-Darstellerin Katie Holmes und Noch-Ehefrau von Scientology-Anhänger Tom Cruise droht mit rechtlichen Schritten, nachdem die US-Pornodarstellerin unter dem Künstler-Namen Katee Holmes vor der Kamera ihre Unschuld verlieren will.
Die ehemalige "Dawson's Creek"-Schauspielerin Katie Holmes ärgert sich, dass die 18-jährige Texanerin Katee Holmes nun fast genauso heißt wie sie. Katie Holmes Presse-Sprecher: "Das ist eine ganz billige Aktion."

Shy Love, Pornoveteranin und Sprecherin der Modestudentin Katee, behauptet zu Recht, dass der Name eine Hommage an die 28-jährige Schauspielerin ist.

Shy Love: "Katee benutzt den Namen als Tribut an Katie, die in allem, was sie getan hat, immer die Unschuld dargestellt hat.

DVD's mit Shy Love in unserem Shop
---
| | |
| --- | --- |
| MISTER WONG - SOCIAL BOOKMARKING | Mai 2007 |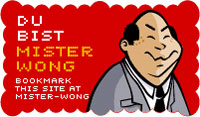 Social Bookmarking-Portale sind zur Zeit das Thema im Netz. Die Nutzer stellen ihre Lieblingsseiten in Form von Bookmarks ins Netz und teilen sie so mit anderen Nutzern.

Die bekannteste und wichtigtse Suchmaschine ist zur Zeit noch "Google" gefolgt von "Yahoo". Mehr als 80 Prozent der Online-Suche erfolgt über diese Anbieter.

Seit März 2007 ist "Mister Wong" online. Ziel ist es eine unabhängige Suchmaschine anzubieten, die von Menschen und nicht von Robots gepflegt wird.

Das Mitmachen bei "Mister Wong" ist einfach: nachdem man sich registriert hat, werden die eigenen Favoriten eingegeben und für alle Nutzer freigegeben.
"Beim Social Bookmarking werden Webseiten erst dann populär, wenn sie von vielen Nutzern als Favoriten gespeichert sind".

Bei Mister-Wong.de Bookmarken | German Social Bookmarking
---
| | |
| --- | --- |
| XCALIBUR von PIERRE WOODMAN | Mai 2007 |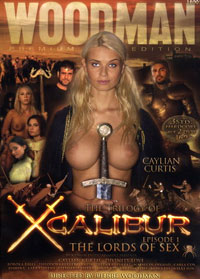 PIERRE WOODMANs neu gegündetes Unternehmen WOODMAN ENTERATINMENT steht für erstklassige Produktionsqualität in Kombination mit kompromisslosem Hardcoreinhalt.
Alles in dem berühmten Stil, der Pierre Woodman zum wahrscheinlich erolgreichsten Hardcore Regisseur aller Zeiten macht. Es wird verschiedene Produkt-Liniern geben.
WOODMAN Premium: Das Flagschiff mit Blockbustern unter persönlicher Regie von Pierre Woodman.
WOODMAN ENTERTAINMENT wird einige Reihen produzieren, in denen sich ausgewählte Regissseure der WOODMAN Qualitäts-Philosophie verschrieben haben.
ANAL GATE unter der Regie von David Perry. GAMES OF PERVERSION unter der Regie von Philippe Soine. Bei SEXXXOTICA - sinnlicher Hardcore-Sex in atemberaubender exotischer Umgebung, von Bali bis BoraBora führt erneut Pierre Woodman Regie.
Hier die aktuelle WOODMAN Produktion Xcalibur - The Lords of Sex Episode 1
---
| | |
| --- | --- |
| HIP HOP und Porno | April 2007 |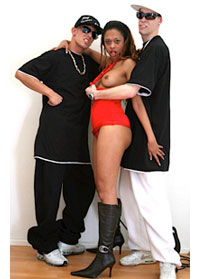 "HIP HOPer - Hart gefickte Groupieschlampen" ist das aktuelle Filmprojekt von SD.EVOLUTION VIDEO.
Geilste Hip Hop Musik und heisser Sex ist das neuste Erfolgsrezept der innovativen Erotikschmiede SD.EVOLUTION VIDEO.
Top Rapper zeigen ihren Alltag zwischen Tonstudio, Freestyle, heissen Girls und versauten Partys.
Kalle und Ralle haben schon einige Konzerte hinter sich. In einen Club in Berlin waren sie Spezial Guest's neben Orgypörnchen, Frauenarzt, u.v.a.
Für das neue Projekt nennen sie sich jetzt die King Pints.
Der Film erscheint Ende April im Marlis Baukloh Vertrieb und kann bei uns bestellt werden.
Zusätzlich wird es ein geiles CD Release der Jungs geben. Auf ihren Auftritten wird es heissen Live Sex mit coolen Beats geben. Die beiden werden auch auf der BEH Erotik Messe in Hamburg zu sehen sein.
Hier alle HipHop-Pornos bei uns im Shop.
---
| | |
| --- | --- |
| DICKE EIER bei OpenErotik - FREIFILM ABGREIFEN | März 2007 |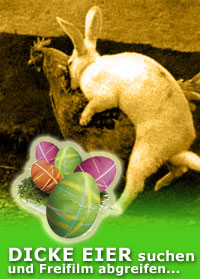 Finden Sie die dicken Eier bei uns im Shop und greifen Sie eine gratis Porno-DVD ab.
Wir haben in unseren Shops dicke Eier versteckt.
Auf einem Cover finden Sie ein Osternest mit fünf Ostereiern.
Wenn Sie auf dieses Cover klicken wird Ihnen der dazu gehörige Gutscheincode angezeigt.
Mit diesem Gutscheincode erhalten Sie die Gratis-Porno-DVD von 21Sextury.
Bitte geben Sie diesen Code beim Abschluss ihrer Bestellung ein und greifen Sie die Gratis DVD BEST OF 21SEXTURY VOL.4 ab.
Das junge erfolgreiche Label "21 Sextury Video" startete im Jahr 2003 als kleines und innovatives Erotikunternehmen und entwickelte sich bis zum heutigen Tag zu einem rasend schnell wachsenden Unternehmen in der Adult Entertainment Branche.
Die Produktionen sind im Gonzo-Genre anzusiedeln und werden fast alle in Ost-Europa mit Top-Besetzung gedreht.
Kleiner TIPP vom Chef: Das zu suchende Produkt finden Sie in der Kategorie Hersteller PARADISE FILM!
---
| | |
| --- | --- |
| GERMAN FETISH BALL - Pfingsten: 25. - 27. Mai | Berlin | März 2007 |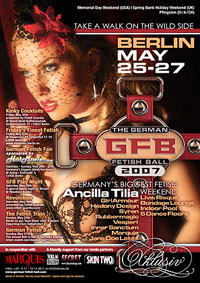 Freitag, 25. Mai | Kinky Cocktails
@ Grand Hotel Kaffehausklub | Schliemannstr. 37 | Berlin / Prenzlauer Berg | Friday's Finest Fetish
Samstag, 26. Mai | German Fetish Fair
@ Arena | Eichenstr. 4 | 12435 Berlin

Die German Fetish Fair findet nicht länger im Arena Magazin statt, sondern ist in die größere Arena Haupthalle gezogen, auf der über 3000 Quadratmeter Ausstellungsfläche und eine gute Infrakstruktur zu unserer Verfügung stehen.
GFB Play Night @ Residenz Avalon | Revolution
Sonntag, 27. Mai | German Fetish Fair @ Arena | Eichenstr. 4 | 12435 Berlin
The Fetish Train | Abfahrt vom Ostbahnhof
German Fetish Ball @ Matrix | Warschauer Platz 18 | 10245 Berlin
Infos & Kontakt: info@germanfetishball.de oder telefonisch unter: +49 - 511 - 161 43 85
Programm des German Fetish Ball 2007:
Mistress of Ceremonies: Ancilla Tilia
Bondage Shows von: Bondage Project | RopeMarks | ArtSensual | Shibari by Patrick
Modenschauen von: Hedony Design | Girl Armour | Inner Sanctum | Jane Doe Latex | Marquis | Rubbermagic | Syren | Vesperi

Live Musik aus Barcelona von: Risqué | PLUS: Ein einzigartiger Indoor-Pool, der natürlich benutzt werden kann 5 Music Floors: 80s & Gothic | Latin & Salsa | Easy Listening | Hard Electro | House
---
| | |
| --- | --- |
| TOP Porno DVD für 99 Cent | März 2007 |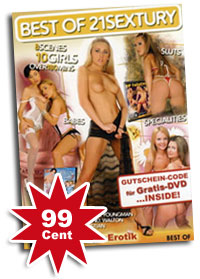 Für unsere treuen Kunden und Newsletter-Abonnenten haben wir zusammen mit unserem Partner 21SEXTURY etwas ganz besonderes vorbreitet:
BEST OF 21SEXTURY VOL.4 für nur 99 Cent.
Das junge erfolgreiche Label "21 Sextury Video" startete im Jahr 2003 als kleines und innovatives Erotikunternehmen und entwickelte sich bis zum heutigen Tag zu einem rasend schnell wachsenden Unternehmen in der Adult Entertainment Branche. Die Produktionen sind im Gonzo-Genre anzusiedeln und werden fast alle in Ost-Europa mit Top-Besetzung gedreht. 3 Stunden SuperSex zum absoluten Preishammer!!!

Das Beste vom Besten von 21Sextury in einer exclusiven Openerotik-Version, die nur hier so erhältlich ist.
Zusätzlich erhalten Sie zu dieser exklusiven DVD einen speziellen 21Sextury-Gutschein für ihre nächste Bestellung.
Lassen Sie sich überraschen und viel Spaß bei unserer Sondercollection 21Sextury Best of 21Sextury Vol. 4!

Ab 79.- € Warenwert entfallen die Versandkosten!
---
| | |
| --- | --- |
| PORNOSTERNCHEN FABIENNE ZU HEISS FÜR DIE BZ | Februar 2007 |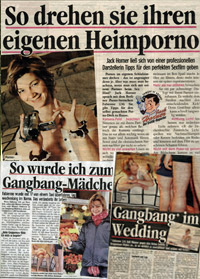 Nach drei Artikeln in Folge (www.bz-berlin.de) wird Pornosternchen und Gang Bang-Star FABIENNE "zu heiss" für die BZ.
Nachdem die BZ in den letzten zwei Wochen über FABIENNE berichtete, hagelte es derartig viel Kritik, dass die geplanten und teilweise vorproduzierten Stories von der Chefredaktion erstmal auf Eis gelegt wurden. Es stellt sich die Frage:"Wieviel Sex kann diese Stadt vertragen?" oder "Wieviel Sex darf eine Frau haben?"
Wenn ein Porno-Newcomer mehr Aufsehen erregt als ein bekannter Pornostar (Leonie, Vivian Schmidt) kann das nur daran liegen, dass es sich, nunmal im direkten Fall bei FABIENNE, um eine Frau handelt über die die Stadt spricht und sprechen will.
Was hat sie, was die Anderen nicht haben? Was macht sie, was die Anderen nicht machen? FABIENNE ist Pornodarstellerin aus Leidenschaft. Und daran lässt sie ihre Fans teilhaben. Entsprechend kann ihre Internetpräsenz innerhalb von nur drei Monaten 18.000 Zugriffe verzeichnen, ihre erste Präsentation im Erotica in Mitte brachte ein volles Haus mit dem ersten Hauptrollen-Film, ohne dass ein Mann den Film zuvor gesehen hat. Innerhalb von einem Monat hatte sie zwei Exklusiv-Verträge als Darstellerin. Jetzt startet sie sogar ihre eigene Produktionsfirma und agiert auch als Produzentin. Eine musikalische Karriere ist ebenso geplant wie ein spektakuläres Filmprojekt.
Was macht diese Frau so besonders? Nur ihre Natürlichkeit und die Tatsache, dass das was sie tut ihre Überzeugung ist? Hier die aktuelle Produktion mit Fabienne.
---
| | |
| --- | --- |
| Pornodreh bescherte Lulu ihren ersten Orgasmus | Februar 2007 |
Jahrelang war Bürokauffrau Angelina T. (25) sexuell frustriert. Kein Mann konnte sie befriedigen. Dann wurde ihr das Angebot gemacht, in einem Porno-Film mitzuspielen. Gleich beim ersten Dreh als "Lulu Lüstern" klappte es mit dem Höhepunkt.
"Ich hatte in meinem Leben schon viele Typen im Bett", erinnert sich Angelina. "Doch die meisten wollten nur ihren Spaß, kümmerten sich nicht um meine Bedürfnisse. Dabei hatte ich so sehr Lust auf einen Höhepunkt."
Während Angelinas Sexualleben immer frustrierender wurde, ging es auch beruflich bergab. "Nach der Geburt meines Sohnes Justin, verlor ich mit 23 meinen Job im Büro", sagt sie traurig. "Der Vater hatte sich noch vor der Geburt aus dem Staub gemacht."
Durch Zufall war Angelina auf der Sex-Messe "Venus". "Ich kam mit einem Produzenten ins Gespräch, erzählte ihm von meinem Frust", so Angelina. "Aus Spaß sagte er, ich solle in seinen Pornos mitspielen. Spontan sagt ich ja."
"Ich vergaß die Kamera".Ein paar Tage später der Dreh. "Ich spielte eine Szene mit einem muskulösen Mann, der genau wusste, wie man eineFrau nehmen muss. Ich vergaß die Kameras und die ganzen Leute und ließ mich total fallen. Es dauerte nicht lange, da kam ich zum Orgasmus. Es fühlte sich an wie tausend Explosionen in meinem Körper."
Der Produzent war begeistert von Angelinas Natürlichkeit, gab ihr sofort einen Vertrag. Seitdem dreht sie als "Lulu Lüstern" Pornos für die Firma Magma und Inflagranti. "Endlich habe ich meine Sexualität entdeckt", so Angelina "und erlebe jetzt regelmäßig Orgasmen." So schön kann es sein ein Pornostar zu sein.
Hier die aktuelle Inflagranti-Produktion mit Lulu Lüstern
---
| | |
| --- | --- |
| Pornos werden nicht auf Blu-ray veröffentlicht | Januar 2007 |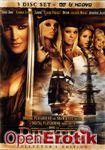 Es erinnert an frühere Formatkriege im Heimvideobereich. Die eindeutig schlechtere VHS-Kassette stach die qualitativ besseren Betamax-Videos von Sony vor allem deshalb aus, weil es auf ihr auch Busenfilme zu kaufen gab. Auch im Kampf zwischen HD-DVD und Blu-ray wartete die Branche deshalb gespannt darauf, für welches Format sich die Erotikbranche entscheidet. Sony scheint dabei erneut den Kürzeren zu ziehen.
Die Firma Digital Playground würde gerne ihre Hochglanzpornos auf Blu-ray rausbringen, blitzte aber bei den DVD-Herstellern ab. Gemäss Firmengründer und Regisseur Joone, dessen aufwändig produzierter POTC-Spoof Pirates zu den bestverkauften Sexfilmen aller Zeiten gehört, drohte Sony den DVD-Kopierwerken mit Lizenzentzug, falls Filme für Erwachsene hergestellt werden.
Verkaufsrenner aus dem Digital Playground-Repertoire, die in weiser Voraussicht schon alle mit HD-Kameras gefilmt wurden, werden deshalb Anfang Februar in den USA ausschliesslich als HD-DVDs erscheinen.
Die meisten anderen Pornostudios wollen auch nicht viel von Blu-ray wissen. Dies stellte die Technologie-Website TG Daily während einer nicht repräsentativen Umfrage anlässlich der Erotikmesse Adult Expo in Las Vegas fest. Weil HD-DVDs billiger zu produzieren sind und sie dank der Xbox 360 einen (noch) grösseren Marktanteil bei den Abspielgeräten in den US-Haushalten haben, werden diese vor allem auch von kleineren Betrieben bevorzugt.
Ob die Macht der Sexindustrie bei der Formatwahl immer noch so gross ist wie zu Beginn der 80er Jahre anlässlich VHS-Einführung, wird sich zeigen. Die Alternative, die sich dem Pornofan damals bot, war das Aufsuchen eines öffentlichen Sexkinos.
Da war der Videorecorder im trauten Heim tatsächlich die gemütlichere Wahl. Im Zeitalter des Internetdownloads, wenn man sich die Unterhose schon gar nicht mehr überziehen muss, um sich an Nackedeis zu erfreuen, ist es fraglich, ob es überhaupt noch einen physikalischen Datenträger braucht, um Filme anzuschauen.
Ganz zu schweigen von der Frage, ob man wirklich jeden Pickel am Arsch eines stöhnenden Tschechischen Pornostars sehen will.
---
| | |
| --- | --- |
| OpenErotik war auf der AVN 2007 in LAS VEGAS | Januar 2007 |
Die OpenErotik-Redaktion war vom 10. bis zum 13. 01 in Las Vegas um uns über die aktuellsten Entwicklungen in der Erotik-Branche zu informieren. Unter anderem wurden dort die AVN Awards verliehen.
Der AVN Award ist der Preis der US-Erotikbranche schlechthin. Die Abkürzung AVN steht für Adult Video News. Zu AVN gehören eine Reihe von anderen Geschäftsbereichen, wie diverse Print- und Online-Magazine sowie auch Verbrauchermessen.
Die AVN Award Show ist einer der größten Veranstaltung in der Branche und wird seit 1984 veranstaltet.
Die Award Show wird jedes Jahr von einem Star der Branche moderiert. Der Film Scoundrels des Regisseurs Cecil Howard war der erste Film, der mit dem Award "Best Film" ausgezeichnet wurde.
Aufgrund der umfangreichen Kategorien, dem Prestige und der Größe der Show (ca. 3.000 Gäste) wurde die Veranstaltung 1996 von dem Magazin Entertainment Weekly als die "Oscars of Adult" bezeichnet.
Es werden über 100 unterschiedliche Preise wie "Best Film", "Best Director", "Best Audio" "Best Editing" "Best Actor", "Best Marketing Campaign", "Best DVD Packaging", "Best Art Direction", "Best Special Effects", "Best Screenplay", "Best Comedy", "Best Sex Scene" in 8 verschiedenen Hauptkategorien (Production, Performer, Director, Sex Scene, Technical, Speciality, Marketing, Special) verliehen.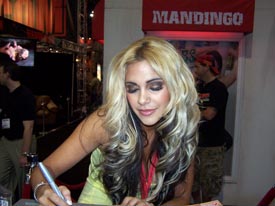 Die Preise in den verschiedenen Kategorien werden für besondere Leistungen, die erfolgreichsten Filme und die Entwicklung der Unterhaltungsindustrie für Erwachsene vergeben.
Die Gewinner werden durch Abstimmung unter qualifizierten Insidern der Pornobranche ermittelt.
Die Integrität dieses Vorganges und die breite Abstimmungsbasis machten die AVN Awards zu den glaubwürdigsten, am meisten respektierten und beachteten Preisen in der Erwachsenenunterhaltungsbranche.
Prominente Gewinner in der Kategorie "Best Selling Title of the Year" waren u.a. das in die Schlagzeilen geratene Video mit Paris Hilton und die Produktionen von Rapper Snoop Doggy Dogg.
Hier finden Sie die
AVN AWARDS Gewinner als DVD und unsere große
Fotostrecke von der AVN Adult Entertainment Expo 2007
sowie die Autogramme der Porno-Stars
---
| | |
| --- | --- |
| CDU POLITIKER IST PORNO-DARSTELLER | Januar 2007 |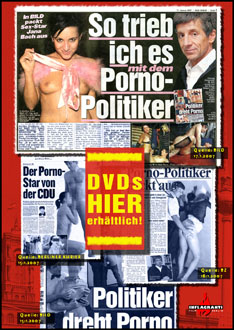 Die Berliner CDU schaute einen Porno und ist nun sehr darüber erregt: Denn einer ihrer standhaften Politiker aus Kreuzberg, Alexander M. (52), ist in einem harten Sex-Film als großer Star zu sehen. Der Porno-Dreh des CDU-Mannes: Für die Partei ein Skandal
Der CDU Kreisverband Friedrichshain-Kreuzberg wird von einem Sexskandal erschüttert. Der 52 Jahre alte Chirurg Alexander Maassen, seit Jahrzehnten treues CDU-Mitglied und derzeit Schatzmeister der CDU-Kreuzberg spielte in über 50 Porno-Produktionen mit.
Seit Jahren schon dreht er Hardcore-Pornos, aber irgendwie ist das keinem in Berlin wirklich aufgefallen. Erst, als das CDU-Mitglied Vorsitzender des Kreisverbands werden wollte, begann die Schmuddellawine zu rollen.
"Dieser Film stimmt mit den Wertevorstellungen der CDU Friedrichshain-Kreuzberg nicht überein." Schlimmste preußisch-bürokratische Tugendreiterei! Bei der bayerischen CSU mit ihren eher südländisch lockeren Moralvorstellungen hätte Alexander M. ebentuell bleiben dürfen.
Dafür spricht nicht nur der Fall Seehofer, sondern auch die Geschichten um Franz-Josef Strauß (dem im New York mal die Brieftasche von einer Hure gestohlen wurde) und die Bundestagsabgeordnete Dagmar Woehrl, die als sehr junge Frau in dem Sex-Film "Die Stoßburg. Wenn nachts die Keuschheitsgürtel klappern" auftrat. Beiden wurde von der Partei großmütig verziehen.
Doch wie konnte Alexander Maassen davon ausgehen, er könnte in einem Porno auftreten, ohne dass im ebenso sittenstrengen wie verklatschten Berlin jemand Anstoß daran nimmt?
Nun hat der mittlerweile in der EDV-Branche tätige Mediziner sein CDU-Parteibuch abgegeben. Er werde auch ohne Parteibuch weiter Politik in seinem Stadtteil machen, sagt Maassen. Die CDU bezichtigt er der Doppelzüngigkeit. Schließlich sei es die schleswig-holsteinische CDU gewesen, die Beate Uhse für das Bundesverdienstkreuz vorschlug. Unsere Redaktion hält Euch auf dem Laufenden...
Hier finden sie Pornos mit dem Porno-Politer Alexander Maassen
---
---
---
Alle Rechte vorbehalten. OpenErotik® Germany ist eine eingetragene Marke der SAG Technology GmbH.